Our Mission
To Provide an Accurate and Comprehensive Body Analysis for Health and Wellness
Visbody, established in January 2014, is the world's first company that applied dynamic 3D reconstruction technology to human body assessment. Utilizing the 3D body scanning and body analysis & reconstruction tech, to measure and assess different body compositions, like body status, circumferences, Joint function, Dynamic function, static postures, and more, to generate accurate 3D body avatars, and reliable body reports.
Visbody body composition & 3d body scanner widely used in commercial fitness and wellness fields .We have provided high-quality services to franchise gyms, clinics, health centers, hotels, resorts, spas and other customers in more than 40 countries and regions around the world. Feedbacks from users in the United States, Canada, Switzerland, Spain, Japan, Singapore, etc., It's great help to the user's body composition assessment, posture assessment, and physical changes after fitness or therapy.
Visbody has been focusing on 3D body scanning and machine learning technology since 2010. We are committed to developing the most advanced technology for a health assessment including body composition and posture measurement. Visbody R adopts many patented technologies to provide a safer, more advanced, and more comfortable body assessment experience. Through the visualization and analysis provided by the Visbody R, people can get more insights about your body and grasp the changes. Up till now, Visbody owns over 166 patents, cooperates with more than 2000 institutions and companies, and provides service to over 2 million users all over the world.
In 2015, our team is on the high path to seek the result of high accuracy 3D body-scanning tech. Our CEO was bothered by the over-fat problem because of high pressure and unhealthy lifestyle, he decided to take movement in the gym, and take part in the BIA analysis, the coach showed him the detailed report and acknowledges to help do fitness. After one month of fitness, when he returned to the gym and get the latest report to know if his body status has improved, but sadly, the previous report was lost and he can not compare these two reports to know the result. This experience makes him realize it's important to make body changes visualize and trackable. Base on that, Yang thought thoroughly to imply 3D body scanning tech into body assessment.
Milestone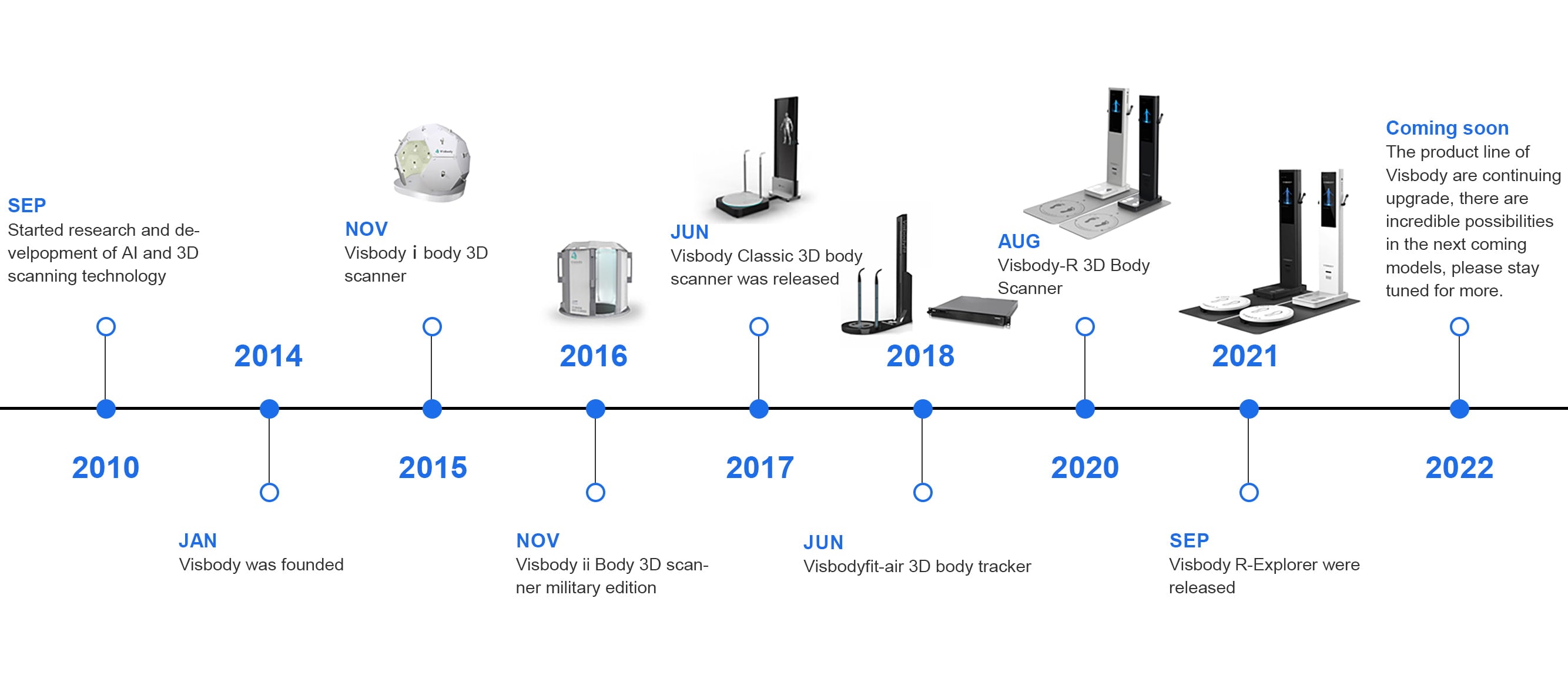 Our Customers
What People Say About Us
LaVerne Roberts
Gym manager
Using Visbody in our gym allows our clients to with objective data, we can track the data and see their body changes in an easy way. Visbody make it.
John Frederick
Fitness coach
With Visbody scanner,we manage to provide more additional valued services for our clients,to make them konw more about body status.
Visbody Body Scanner is easy to use for my clients and most of them could finish the scan on their own, it delivering frighteningly detailed full-body data in 3D vatar, very incredible!
Lynn Corbyn
Personal Trainer
I love how Visbody is the world first body scanner with IBS & BIA technologies and it works as promised, it's not only measured your body composition but with total amount of fat, lean tissue and bone in your body, it's a very easy way to understand your body situation by that 3D model on the app!